A while back, Radio Shack introduced micro RC vehicles called Zip Zaps.  Not long after introducing those, they introduced a line of monster trucks that in my opinion, were way cooler than the Zip Zaps SE or even the original Zip Zaps as these monster trucks could drive for a much longer time and they can drive on carpet, tile, and most any surface you can think of.  They're also 4WD, which is really cool!
After playing with one for a while with the stock motor, I had to have more of these, and along those lines, upgrade them w/ Radio Shack's upgrade kits.  I also discovered some mods that were available for the monster trucks to make them not only faster, but make more efficient use of the stock battery.
The mod I'm going to detail facilitates neither of those end results.  Instead, this mod attacks the charge level of the monster truck's battery, thus translating into longer run time, especially for older, kinda worn out batteries.
So here's the deal with the battery contained in these little RC monster trucks (referred to as ZZMT from now on).  Under the circuit board sits a tiny NiMh (nickel-metal hydride) rechargeable battery pack.  It's a 2.4V pack (2-cell) at 120mAh.  With this pack, depending on what motor/gears you're running in the ZZMT and how fresh your remote batteries are, you can get a decent amount of run time for the quick charge you get from the remote.  Typically with the fastest motor and tightest gear ratio, I could get maybe 3-4 minutes of run time.  I performed the FET mod on two of my trucks for even more speed, stronger steering, and slightly extended battery life.  This was fine for a while, but as these trucks and especially the batteries aged, they don't charge as well anymore, and I'm consistently getting short run times (like a minute) per charge.
I looked into putting a higher capacity 2.4V pack in there (people have put 3.7V LiPo's in there, but that's not for me), but nothing really fits easily that's higher capacity.  After researching that a bit, it suddenly occurred to me that there's no possible way that the 120mAh pack in the truck is getting anywhere near to fully charged in the ~45 secs it takes to charge the battery.  That last little letter there in the capacity, yeah the 'h', stands for hours, meaning that the number printed before mAh is how much current can supposedly be drawn from that battery for the duration of an hour.  Ok so that's cool, under ideal circumstances, you can pull 120mA out of this pack for an hour before pronouncing it dead (to be charged again).  All that this really means is that you need to put that much power back into the battery (plus some extra for losses) to charge the battery to capacity.  Some simple math reveals that to fully charge that pack in the ZZMT, you need to charge the pack at 9.6Amps (1000mA in 1 Amp) for ~45 secs to reach full capacity.  Again, all this is ideal, but hopefully you see where I'm going with this.  Somehow 4 AAA batteries need to provide a ton of power in a short amount of time to charge the ZZMT fully, or something else is going on like the battery isn't being fully charged….
I've designed battery chargers before, and the charge rate you have the charger charge a battery at is rated in 'C's, or multiples of the battery's nominal capacity.  In other words, for the 120mAh battery I'm talking about, charging it at 1C means applying the charge voltage and current limiting the charge current to 120mA.  2C means 240mA…etc.  So another gut check:  To charge this 120mAh battery in 45 secs requires a charge rate of 80C.  Hmm…even the super-duper hobby NiMh packs can't be charged at this rate.  Usually they top out around 20C or so, and the battery inside the ZZMT isn't anything special, so charging it at like 5-10C max is probably what the battery can handle.
With all this, it was very obvious that there's no way this battery is being charged to capacity.  And likewise, a higher capacity battery would really do nothing except appear to be better since it was new instead of old and kinda worn out.  This made me wonder if I can modify the charger to deliver more current (higher C charge rate), have a smart charger in the remote to fully charge the battery, or lengthen the charge time (good for older, worn batteries).  Upon looking at the schematics for the remote, I find that the charger is very crude and simple: A transistor turns on allowing current to flow to the battery, and a 0.22 Ohm resistor limits the current.  After a RC timer circuit hits ~45 secs, the transistor is switched off and the battery is "charged".  This…is cheesy haha.  I didn't really want to mess a whole lot w/ hacking a smart charger in the remote and trying to increase the current (as there's not I can do to increase current to the battery), so I decided to change the timer circuit to allow a double-charge.  To prove that this helps, I double-charged a ZZMT and I got way longer battery life.  In fact, the more little charges you give the thing, the more run time you get (at some point you'll hit diminishing returns, your remote batteries die, or something melts in the remote from all the current going into the 120mAh battery).
Luckily the schematics revealed a 1 meg-ohm resistor and a 22uF electrolytic cap make up the RC timer circuit.  I doubled the cap to 47uF, and voila, double-charges without having to do anything.  I could also replace the BJT w/ a FET instead and get a higher charge voltage to the ZZMT's battery, but I just left that alone.  Oh I also added an external AA battery pack as the AAAs in the remote die quickly.  Another thing to note that after a bunch of charges, the AA's get warm, meaning lots of current is coming out of them to charge the ZZMT.  The result of all this?  Probably roughly 10 or so minutes of run time, depending on the driving surface (lower w/ carpet).  So…easy mod to get longer run times w/o really doing much of anything except changing a capacitor!  Heat is probably an issue through the 0.22 Ohm resistor (R15), so that might need to be beefed up, but hey, I'm happy now with the run time.
In the pic below, the replaced capacitor is the brown can looking thing next to R15 (upper right):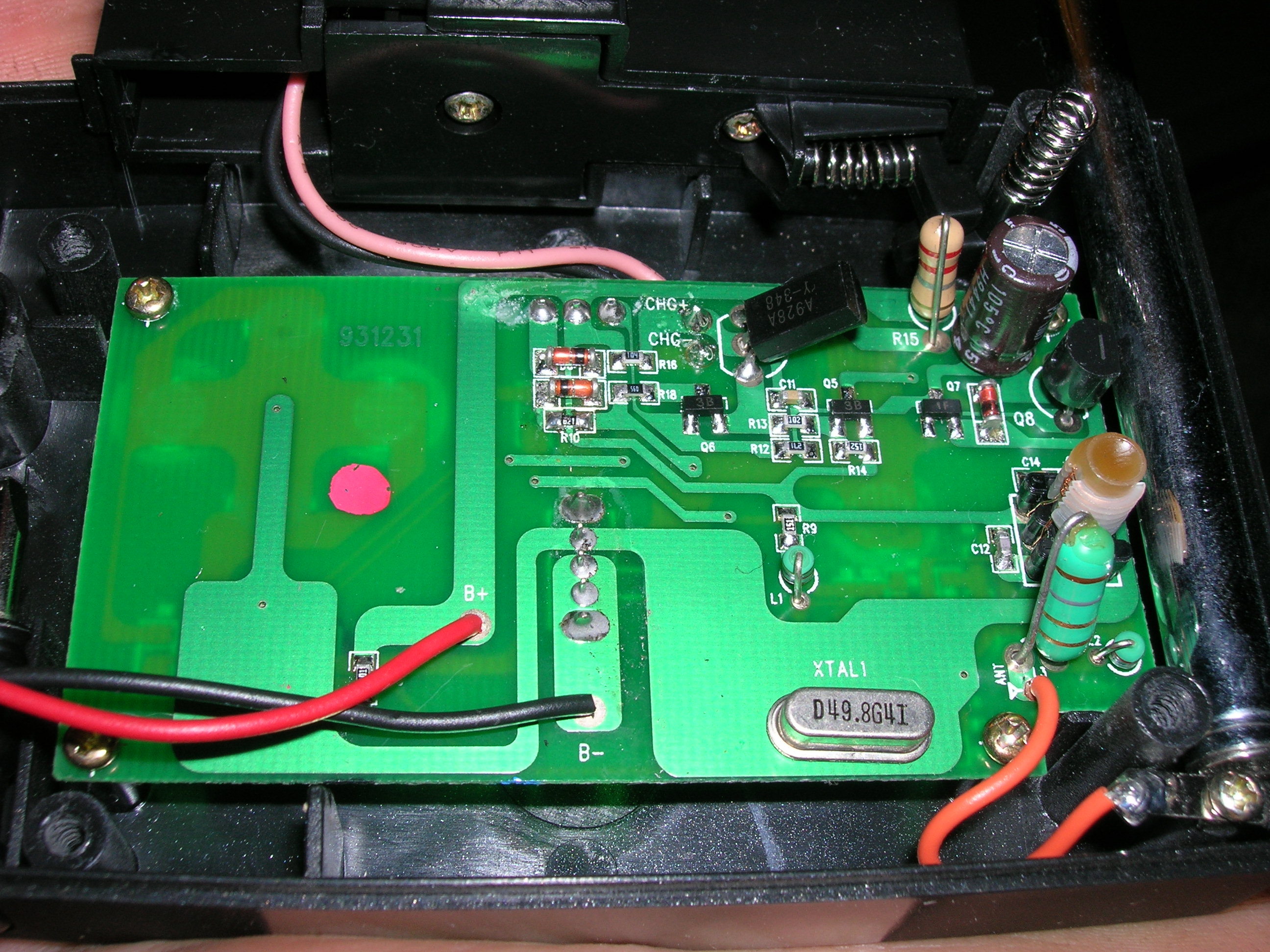 At some point, I may make a stand alone smart charger to fully charge the ZZMT in an hour-ish.  Then, you can just leave the ZZMT on the charger till you want to use it and get lots of run time.  And if it wears out, throw it on the remote's charger for some quick-charge play time.  I love these little trucks!