This page contains all the information for all the STN1170 Bluetooth OBD-II module I've designed.  This is even smaller than my STN1110 based reader (files, comments, and other info still available here:  STN1110 OBDII Reader) and is the smallest module of its kind that I've seen to date.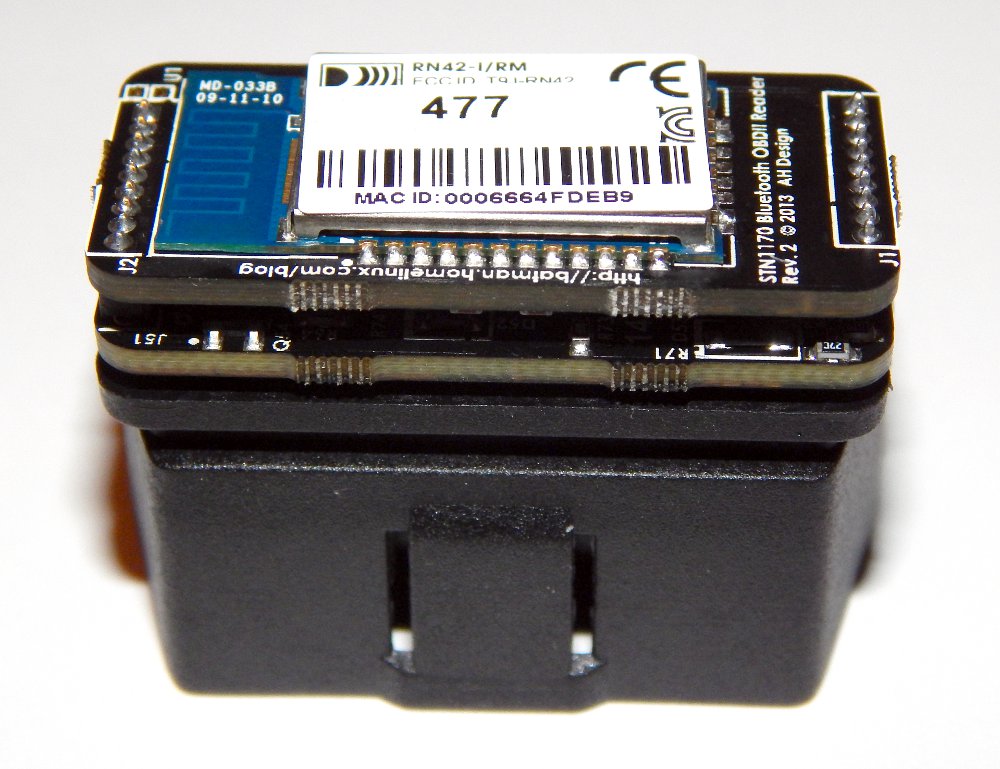 All of my Bluetooth OBD-II modules work very well with Scantool.net's ScanXL OBD-II diagnostic software for Windows.  FORScan (for Ford vehciles) and CANIon are other apps that are popular with the STN1170/STN1110 based readers fro Windows.
For Android users, my Bluetooth OBD-II adapters are an excellent companion for the Torque app ($5 on the Android Market), which is easily the best OBD-II software available for any Android smart phone or tablet.
Palm Pilot and PocketPC users can use OBDGauge, although both of these configurations are untested with my adapters.  Essentially as long as you can pair your Palm Pilot or PocketPC device to my adapter via Bluetooth, OBDGauge should be able to communicate with my adapter.
IPhone/IPod/IPad owners will not be able to use my Bluetooth adapters with their Apple products due to the lack of an Apple authentication chip in my BT module (the BT module also doesn't support Apple's authentication protocol).  If you have an Apple device, you will have to purchase a wifi ad-hoc OBD-II adapter if you want a wireless link to your vehicle.  Apple also makes it prohibitively expensive and complicated for hobby type people wanting to connect something via Bluetooth to their iOS device.  I'm not sure if this is also the case with OSX.  If Bluetooth 4 Low-Energy based OBDII adapters catch on and iOS OBDII software is available, I'll most likely design a reader for Bluetooth Low Energy.  At this point, it doesn't make sense to create one without software support.
Here's a quick and dirty manual I created that explains how to connect up my modules (or any OBD-II module really) to your vehicle and pair it to your Android phone.  For other operating systems, the process is essentially the same, but not covered in the manual.  Download the manual here:  STN1170 Bluetooth OBD-II Adapter Manual
Please note that for shipping destinations outside of the USA I am not responsible for any extra customs/duty fees that may be encountered when importing happens, and I am not responsible for lost packages outside of the USA.  A tracking number will be provided.  If you don't receive your package within say 4 weeks of me informing you that I shipped your item, contact your customs office as it is probably held up.  The amount of tracking provided unfortunately depends on the country being shipped to.  For most countries, you'll receive your package in 2-3 weeks.
At the moment, enclosures are not available for the reader.  Depending on interest in the readers, their sale may end up funding a custom enclosure design.
Assembled Modules:
STN1170 Bluetooth Adapter – Fully Assembled and Tested (Out of Stock)
 
$85 shipped (USA)
$125 shipped (international, tracked)
---
Download open hardware Altium sources and gerbers for STN1170 Bluetooth and STN1170 Driver
---
The STN1170 Bluetooth OBD-II adapter is copyrighted under the Creative Commons Attribution 3.0 license.  If you use these sources for creating your own module that you post online, please attribute my module as the original source (as the license states).
---

STN1170 OBDII Bluetooth Module by Andrew Honecker is licensed under a Creative Commons Attribution 3.0 Unported License.